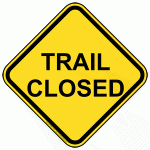 PLEASE READ!! We have updated trails that are currently OPEN or CLOSED in the Keweenaw Peninsula. STAY OFF CLOSED TRAILS!!! Closed trails are marked and barricaded for your safety. DO NOT remove or drive around barricades on trails, please seek an alternate route, you will be ticketed by the Sheriffs or DNR if you are caught on a closed trail.  And please remember, the majority of our trail system is not owned by the state or county, they are easements through PRIVATE PROPERTY, if you are driving off the trail to avoid barricades you are trespassing and private property owners have the right to withdraw their easement at any time resulting in the loss of that section of trail.
Keweenaw ATV Club With the DNR< wanted to provide an update of trail progress and conditions to date. The trail conditions at present are:

Lake Linden Trail BD is closed from  Dollar Bay to Lake Linden.
From Calumet to the trestle into Lake linden trail BD is now open. After you pass the trestle, turn left into Lake Linden.
Freda is closed entirely with Director's Order.
Hancock to Calumet Trail B (Jack Stevens) IS OPEN.
Chassell to Houghton (non-motorized) will be closed for an extended period as well.

Hancock to Dollar Bay (BD) Trail is Open.
Trail B (Mandan to upper Hoar Lake Trail) Is Open.
Trail B is closed at the Phoenix farms road east. There is a reroute in place! Please follow all signs. And respect the land owners!
Trail B (OPEN From Copper Harbor to Gratiot Lake Road.
Trail BK is Open.
Trail BL is open. This is the Keweenaw Mountain Trail (to the Lodge)

Trail 124 from the snow gauge to Gay is closed. Due to logging.
We have had a lot of good Volunteers doing trail maintenance. There is both the economic and public safety aspect that we are working on.

We will update all of you as further information becomes available.