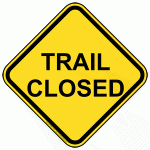 PLEASE READ!! We have updated trails that are currently OPEN or CLOSED in the Keweenaw Peninsula. STAY OFF CLOSED TRAILS!!! Closed trails are marked and barricaded for your safety. DO NOT remove or drive around barricades on trails, please seek an alternate route, you will be ticketed by the Sheriffs or DNR if you are caught on a closed trail.  And please remember, the majority of our trail system is not owned by the state or county, they are easements through PRIVATE PROPERTY, if you are driving off the trail to avoid barricades you are trespassing and private property owners have the right to withdraw their easement at any time resulting in the loss of that section of trail.
The trail conditions at present are: OPEN
Hancock to Calumet Trail B (Jack Stevens) and everything north is presently open.
The only closed trails, are the North Freda trail. And the trail from Dollar Bay to Lake Linden.

We have had a lot of good Volunteers doing trail maintenance.